NATIONAL AWARD IN 1997 for outstanding SSI UNIT of the State, Odisha from Vice-President of India SJ KRISHNA KANT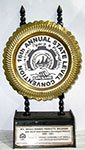 Sanjay Kumar Das, Managing Partner of the Business, BE (Mech.), MBA, has already two decades of experience in Rubber Industries. He has been associated with the business since its inception. He is responsible for the overall working of the business and is instrumental in making strategic decisions for the business. Besides, Mr. Sanjay is an eminent individual and is part of various National and International Boards and Bodies.
ORISSA RUBBER PRODUCT, BALASORE, ORISSA is since 1992 a winner of National Award of the State in 1997 engaged in the development of custom EXTRUDED & MOULDED rubber components such as Bush,  Oil Seal, Rings, Buckets, Nitrile rubber components , Tara Hand Pump , Sellow Pump, Rubber Hose Pipe, Rubber expansion Joints, Rubber Rollers Conveyor Belts etc.

Our Company is equipped with all latest Machines to Produce & Testing Lab to insure its Quality & Above all we have well Experienced Technical Family to give all their best services in terms of Quality & Quantity. Our products are supplied to all Major OEM's company in India.

Whether your needs are rapid prototypes or long productions runs, Belmont Rubber Company is your RIGHT CHOICE!
The company's R & D dept. of Science and Technology, has already developed various innovative products. Its Quality Assurance dept. is fully equipped to ensure 100 % quality control.
We at Orissa Rubber Product believe this and have made our mission statement. All manufacturing steps from incoming material to final product acceptance are rigorously monitored for exact weighing procedures, raw material excellence, accurate dimensions, and precise tolerances, which thereby contribute to superior quality products. Physical and chemical analysis of raw materials and finished goods are conducted. Our rubber products find immense application in various industries such as textile, irrigation, pneumatics, solar water heating, electrical appliances and other industries. Our products sync well in the quality conscious environment thereby achieving our objective of developing quality products. Our facility is thereby achieving our objective of developing quality products. Our facility is equipped to provide complete in house production capabilities throughout each manufacturing process which enables us to control product quality and delivery.
The aim is to make Orissa Rubber Product and its products, a bench mark at all levels or international standards.
Our focus at Orissa Rubber Product is service to our customers. Whether your need is for 10 pieces or thousands of it, we establish a partnership with you from the very beginning. Your specific requirements are considered throughout every stage of the project. We will evaluate the test possibilities for part and mould design and formulate a material specifically to meet functional and environmental requirements.
Our team management would like to thank our customers for giving us a wonderful opportunity to service you. We thank you with all our might !